Are you a small or middle business owner and do not have a website? This is a huge mistake. And let us tell you why. Leading an online business can give you a lot of possibilities and chances for growth and development on the local and even global markets, building a brand and reliable reputation, gaining new customers, and providing excellent service, strengthening your position among the competitors. For some reason, many business people think that web development is necessary just for big corporations, and they can do without it successfully. Let us prove to you that your business affairs will go up once you
create a website
.
Online

Presence

In the totally digitalized era, being present online is a necessary point. According to the recent statistics, 70% of customers google products and want to check the website before placing an order. Your audience expects you to be available online so that they could easily check the assortment, discounts, information about your company, location, etc. at any place and any time. People might hear about you from their friends or random acquaintances, and then they would like to know about your company in more detail. Where are they supposed to do that if you do not have a website? Do you seriously expect modern busy people physically to go to your place and check? It is more likely that they would look for a similar online business that does have a website. And you are out of the game.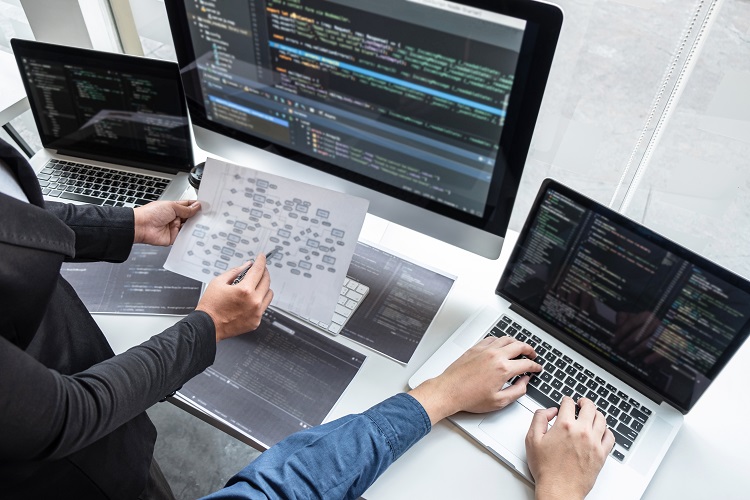 Attracting
New Customers
Web development is an excellent opportunity to broaden your audience and get new leads much faster and effectively. How? First of all, a random internet user may easily find you online by entering the product/service he/she is looking for and the local key. Thus, if you are selling doors in Toronto, there are chances that when entering in the search bar "buy door Toronto", the user will come across your website and order from you. Second, web development will broaden your marketing possibilities: PPC, targeted advertising, and SEO campaigns can bring you more new customers than any billboards, fliers, and other traditional means of promotion. Moreover, they are much cheaper, by the way.
Building

a Reputation

For contemporary people, excellent quality and good service are not enough. They want an exciting and beautiful story behind the company and its products/services. Through web development, you may express the identity of your online business. Choose the design, stylistics, and fonts that would help you to stand up from the mass. Fill your web pages with interesting content, the story of your brand, photos, and pictures, and help the visitors form a comprehensive picture of who you are and what idea your company carries into the world. Modern web development trends will help you to fulfill even your craziest and boldest ideas.
Presentation of the
Products/Services
Before people decide to visit your offline store or order online, your task is to interest them and show how much the things you offer are cool and unique. The website provides a mass number of online business ideas on how you can do that. Detailed high-quality photos, videos, descriptions of the products and services, real people's reviews – all these are ways you can attract, interest, and persuade a person to make a purchase from you.
Who, if not you, knows the strongest sides of the products you offer? Use this opportunity and show the customers the results of your hard work, everything you are proud of and want to share with them.
Effective
Communication

with the Customers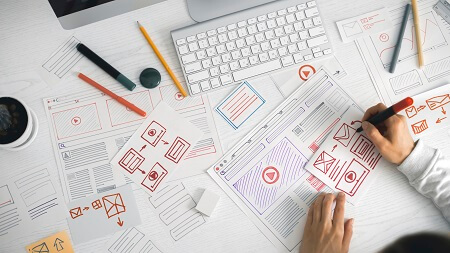 Nothing can make your reputation more trustworthy and reliable than a well-organized two-sided communication with your potential and existing customers. How can web development benefit here?
FAQ rubric that would provide answers for the most frequently asked questions.
Online chat. It can be either a bot or a live online representative. It depends on the specifics of your business.
Feedback and reviews. It will give you real insight about the level of customers' satisfaction with the quality of the products or services they've received. Do not be scared by negative reviews. They will indicate your weak points that you need to improve to become better.
Scaling Your
Business
This is perhaps the most significant benefit web development gives to the business owners – going beyond your local and country borders, or even continents. Even if you are not that ambitious, hello, you never know what will happen in 2020, and the chances are everywhere. If you are present online, you are easier accessible, available, you are convenient. The Internet erases limits and borders. Do you sell doors in Toronto? Why not expand to Edmonton, Regina, the neighboring USA, or even Europe? The possibilities of the Internet are limitless. It is not afraid of time of the day, borders, epidemics, etc. Even when you are away, your online business will continue working and making you money.
Final word
This was the main but not full list of what making a website can do to your business. Indeed, web development is a wise investment into your prosperous future, whether you are a small or middle business owner. To tell you the truth, this is a necessity of the modern world, and the longer you consider and postpone making a web page for your business, the longer you will lag behind your competitors. Don't know how to start an online business? Begin with creating a website. This is a door into limitless opportunities.