Boost your business
Free Evaluation of Business Before Launching a Website
Redesign

Campaign
What does website redesign mean for you? Is it just a process of changing colors, templates, animated transitions, etc? No, not only these actions. It includes customization of default themes, migration from one e-commerce platform to another, and even adapting a website for mobile devices. The sophisticated website with responsive design attracts new customers, increases conversion rates and online presence of users
Feel that this is just what you need? Ask IntlTech for help! Our creative designers will make your wishes come true! We know what is a wow-effect and your customers will be excited about the website. Are you ready to start right now? Then, contact us immediately. Our experts will analyze your audience and business needs. Also, we will generate a website redesign proposal and calculate the cost of the website redesign development. This service is free of charge.
Make your business outstand
Website
Redesign

Сompany. Why Do

You Need

Us?
Regular website updating is an integral part of successful business. If you want to always keep the head above water, you should keep new digital developments under the radar.
Website design is a "face" of your company. We don't think that there exists a person who would like to cooperate with someone whose "face" is not OK.
Changing a website design doesn't always mean global innovations and transformations. In fact, you can redesign a website even every day by adding buttons, changing colors or something insignificant. More global changes require professional skills and approaches. If you're capable of doing it on your own, you can implement all changes. If not — you'd better hire professionals.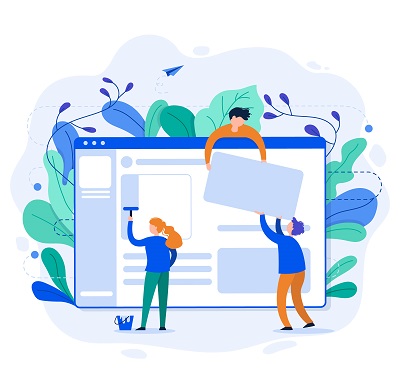 What kind of updating do you need? Let's dive into details and check what kinds of these services are available in the market.
Visual design updating. It includes insignificant changes like colors and new images. The whole picture remains the same but looks fresher and modernized. Therefore, before making a redesign of this type, it is worth considering the pros and cons. Do your website visitors need this change?
Functional changes. It's a more complicated process that includes updates of navigation, menu items, categories, sections, and filters. Functional website updating aims to make the website more user-friendly and comfortable.
Technical updates. This is the deepest correction that includes code optimization and speeding up the website. All this affects the SERP position of the website.
Complex redesign. It includes all kinds of updates: visual, functional, and technical.
Our customers often ask: "Do I need to change my old-fashioned website if I have enough clients and revenue?" No, website redesigning is not a must-have thing but the solution to many common problems. The list of reasons is shown below.
Website migration to new CMS.The most common reason for moving to a new CMS is the inability to implement various improvements to optimize the website. All these significant changes are associated with great risks and only an expert should perform a website redesign after moving it to the new e-platform. The process of optimization refers to:

website structure;
metadata;
content;
redirects customization;
website loading speed;
robots.txt;
microdata.

Slow website loading speed. The speed of web page loading is one of the important factors of search ranking. It influences the impression of visitors about your website and your reputation among competitors.
Reduced conversion rates. Several aspects influence a person's decision to press a button. Modern and responsive design is one of the main factors.
Outdated design that customers don't like. If your website is outdated, it won't reach a higher position in Google Search even after considerable advertising. People just don't like how it looks like. And that's all. In this case, you need to redesign the website, as well as update available content.
Business expansion or change of scope. A simple website is a great solution for a small business, such as a gift shop or an online clothing store. However, if things are going well, then your business will grow into an entire corporation. Such changes will require a new functional website. Redesign in this case is the most optimal solution.
What Do We Offer You?
Most often, we perform a website redesign and promotion simultaneously, however, the redesign service can be a stand-alone procedure.
The process of website redesigning is not just a change of design. It is more complicated and complex work. The operation is difficult because by the time of the redesign, the website already contains many functional modules and components that interact with the database and are inscribed in the website design. To change a design we have to "rewrite" functionality in advance. First of all, we carefully consider all the client's wishes and discuss details, because only quality work leads to quality results.
IntlTech is an international digital marketing company providing quality website development and redesign, SEO-promotion, SMM marketing and many more. Our professionals are not scared of complicated tasks because we always have beneficial solutions for clients. We know what your business needs because we deeply analyze every task and implement only the best approaches and working strategies. The whole process of website redesign is subdivided into several steps described below.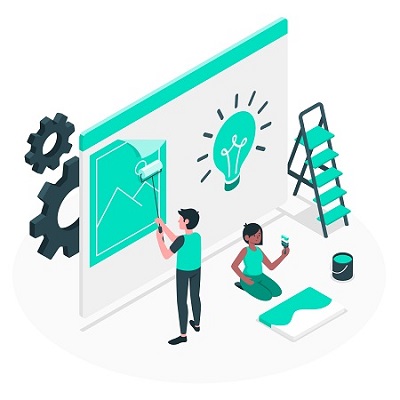 Plan and competitor analysis. At this stage, we evaluate the websites of competitors, analyze your weak and strong sides, consider which elements should be left, what's better to add or update.
New content. An updated website can't have old and outdated texts. IntlTech has a talented team of copywriters who know what words to choose to interest your reader.
Client's verdict. At this stage, we demonstrate a "demo" version of the website and discuss it with a client. If he\she approves it, we proceed to the next stage.
HTML code development. The team of IntlTech developers creates a website, customizes its functionality, tests, and fixes all bugs and errors.
Website optimization. At this stage, we work on speeding up the webpages loading.
Testing. We transfer the work to the QA department to check the website functionality and provide our client with quality results.
Client's feedback. Our manager contacts the client to discuss the results of the work.
Ready to order a website redesign package now? Contact us! Excellent work is guaranteed.
Fill in the form below and
our specialist
will call you back for a
free consultation
.
Request a quote
Fill in the form below and
our specialist
will analyze your business and call your with a detailed information about the plan that would suit your business needs the most.
Request a quote
Fill in the form below and
our specialist
will analyze your business and call your with a detailed information about the plan that would suit your business needs the most.
Request a quote
Fill in the form below and
our specialist
will analyze your business and call your with a detailed information about the plan that would suit your business needs the most.
Fill in the form below and provide the information about your business type and size.
Your are on the
right way!
Fill in the form below and
our specialist
conduct deeper analysis of your business and call with a prepared personal solution.
We are happy that you are on the right way to promote your business online
THANK YOU!
We will make every effort to help take your business to the next level and become your reliable partner. Our sales manager will contact you as soon as possible during business hours.
request callback
Top