Boost your business
Free Evaluation of Business Before
Designing a Website
If your business is not on the Internet, does it exist at all? In the modern world, all customers are smart and picky, and indeed, it definitely makes sense to look about the business before ordering something from it. Your history, reviews, portfolio, followers in social media, and many other things directly influence the potential customer's company choice.
Perhaps, you have got a stable base of customers, and your business really successfully develops offline. But just imagine how moving online can become a starting point of scaling your company.
Maybe, you have got an old website that still functions? That's cool. It is a wonderful base. But the first impression is always built on the appearance, and in the IT world, also on convenience, loading speed, and simplicity of the information presentation. A modern website for modern and dynamic business. So, think about whether your website is still good enough.
In any case, a modern and attractive design with the history of your business is always a wise investment. Moreover, this is a key prerequisite for future successful digital marketing.
Prototype development;
Company logo creation;
Unique photos purchase\creation;
Unique design of 10-12 web pages;
A website design development for PC, laptop, tablet, smartphone, etc.
Mockup for all web pages.
Make your business outstand
Professional
Website Design

. Why Do You Need It?
"Don't judge a book by its cover" – it's not a rule, but rather a recommendation. However, it doesn't work in real life. Scientists claim that within the first five seconds of meeting, people will have a solid impression of who you are or what your website is.
That's why website design is very important in business promotion. The first thing a visitor can see is a website. His\her impression about you is based only on the visual perception of the page. If you make it interesting and appealing, the user will stay here and want to learn more about the content and products.
We've previously mentioned that the website is a "face" of your company. And the quality design is an indicator of the company's image. It shows your attitude to potential customers. If it looks original and appealing, it means that the business owner cares about his\her reputation and wants to impress visitors.
Website designing is not a simple process and you shouldn't entrust it to amateurs. Despite there exist many programs and tutorials on how to create a cheap website design, you ought to be careful. In pursuit of cheap work, you can get caught on the crook hook.
Professional web designers spend a lot of time collecting ideas and approaches of their implementation, generate different templates, mix and play around colors to reach a perfect result that meets all client's wishes. Web design is a kind of web architecture and consist of the following elements: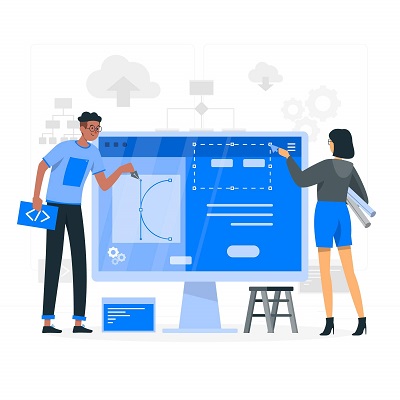 Website layout. It is a kind of graphic design or the arrangement of visual elements on a web page. Website layout indicates how much the page is user-friendly. Quality website layout helps users to find the needed information immediately.
Colors palette. Сolors influence people's perception. That's a fact and everyone knows it. While choosing appropriate colors, the designer should analyze the business specification and then select the appropriate colors to emphasize the company's uniqueness and main advantages.
Fonts. Choosing a font is a very important point in web page development because the quality of perception of the written information depends on it.
Media. This part of the e-commerce website design creation includes logos, icons, different photos, videos, diagrams, etc. To create the appropriate effect, the web designer should place all the elements in the right order, choose the best colors, texts, and descriptions.
Texts. No, designers don't write texts but work with already available sentences and paragraphs. They choose places where it's better to "put" a text, choose sizes, fonds and more.
Who is a Professional Web Designer?
Whose profession is "catching" clients? Marketing manager? Yes, but who else? Of course, a web designer. He\she has to interest visitors with the help of modern technologies. This is the main goal of the web designer. Developing a convenient and simple interface is an important task for representatives of this craft. A web designer should be creative, have a perfect aesthetic taste, and be a confident user of various technical programs. The quality of a web designer's work influences the success of the whole project. If the website is simple, user-friendly and brings you new customers, then you can be sure that the work of the web designer is excellently done.
How Does IntlTech Create Web Designs?
IntlTech is a digital marketing company that develops and promotes websites from scratch. Creating a responsive web design is one of our areas of work. This is one of the most complicated parts of website development, so we divide the whole process into several stages.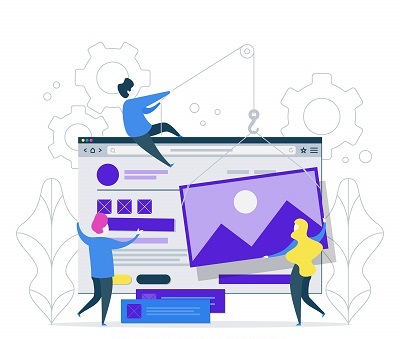 1st stage – Business analysis and website purpose. At this stage, our experts discuss the structure of the website, plan its functionality and required items of the site. After all questions are discussed and the working plan is ready, we contact the customer to get his/her approval.
2nd stage – Modular grid pattern and content structure. The modular grid is a system of non-printable vertical and horizontal lines dividing the web page. The use of a modular grid is associated with one of the most basic design principles – alignment. It allows web designers to organize the various elements of the page, giving its design integrity and clarity.
3rd stage – Choosing software for graphic designing. There are many professional tools (software for graphic designing a mobile website or a website for PC) available on the Internet. These programs are used to create or edit images in a two-dimensional coordinate axis. This is the most important stage of web design development. Web designers implement all their ideas and plans while designing a WordPress website or a website based on other platforms.
4th stage – Web hosting. While choosing a web hosting we have to evaluate the number of resources that the site will consume. In particular, we need to check and choose the database and software for implementing scripting languages, and decide what operating system should be determined.
Ready to order a website design package right now? Contact us! We know how to impress your clients!
Fill in the form below and
our specialist
will call you back for a
free consultation
.
Request a quote
Fill in the form below and
our specialist
will analyze your business and call your with a detailed information about the plan that would suit your business needs the most.
Request a quote
Fill in the form below and
our specialist
will analyze your business and call your with a detailed information about the plan that would suit your business needs the most.
Request a quote
Fill in the form below and
our specialist
will analyze your business and call your with a detailed information about the plan that would suit your business needs the most.
Fill in the form below and provide the information about your business type and size.
Your are on the
right way!
Fill in the form below and
our specialist
conduct deeper analysis of your business and call with a prepared personal solution.
We are happy that you are on the right way to promote your business online
THANK YOU!
We will make every effort to help take your business to the next level and become your reliable partner. Our sales manager will contact you as soon as possible during business hours.
request callback
Top