Free website evaluation before launching
Social Media Marketing

campaigns
Want to make money hand over glove but don't know how to encourage clients? Why not grab them from social media? IntlTech is a digital marketing company providing quality services for website promotion. Delegate social media marketing to us and reap substantial profit in the shortest terms.
Our team consists of highly-skilled and professional employees who know how to boost your business in all possible ways. Ready? Let's go! We can check your website for free and report what we can do to promote the business on SM as well as to calculate the approximate price.
Packages

of services we offer
2 Social Networks
Social network account setup
Business account management & optimization
Unique branding and design
Content plan (for 1 month)
2 posts per week for each platform
Monthly report
3 Social Networks
Social network account setup
Business account management & optimization
Unique branding and design
Content plan (for 2 months)
3 posts per week for each platform
Adjustment of an SM profile with a Marketing Strategy
Comments/Spam monitoring
Monthly report
4(+) Social Networks
Social networks account setup
Business account management & optimization
Unique branding and design
Content plan (for 3 months)
5  posts per week for each platform
Adjustment of an SM profile with a Marketing Strategy
Comments/Spam monitoring
Competitor analysis
Influencer marketing
Reputation management
Tracking brand mentions
Monthly report
SMM is a way to communicate with your client and better understand his needs. 21st century: none is interested in empty, faceless companies.
Social Media Marketing

Cost depends on
Overall marketing scheme
We evaluate your business and develop a marketing strategy individually for every client
Already available (not) available pages in SM
There's a huge difference between promoting already existed SM accounts with available audiences and creating business accounts from the ground up
Type of business
Any kind of product or service may be promoted on Social Media. You just have to find the right approach
The budget you can invest in SMM
Like any other marketing campaign, SM-promotion requires financial investments. As a rule, it works like "the more you spend, the more you earn". However, there are exceptions and you have to be extremely careful before paying
Type and number of SM accounts
Facebook, Instagram or Twitter? What do you prefer? Or maybe all of them? Depending on what you choose, we generate individual marketing campaigns
Why do you need SMM from IntlTech?
Our promo-campaigns really work.
The results are visible immediately.
We feel the heartbeat of SM-trends.
The company provides clear and detailed reports of the work we've done.
IntlTech always demonstrates content-plans for your brand promotion.
We're flexible and include all your wishes into our marketing strategy.
Our team knows how to highlight the uniqueness of your brand. The original design and custom cover photos.
We provide quality customer support. Our dedicated manager knows the answer to your question.
Why Do You Need
Social Media Marketing

Services?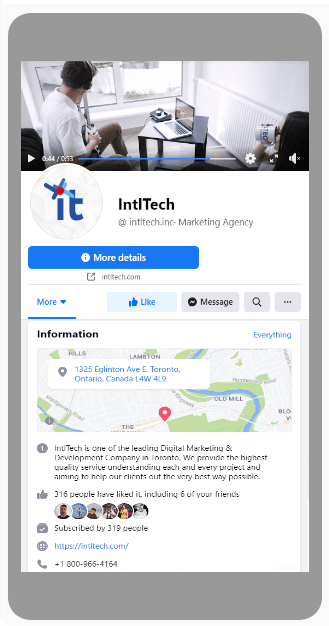 Digitalization is walking in the world by leaps and bounds, penetrating almost every single sphere of human lives. If you just think about it for a second, you would surprise how much time you regularly spend online even without noticing it. And social media take a special place here. What do you do when you want to chat with someone or are just bored at work? You open your Facebook or Instagram profile, right? And you are not the only one. Thousands, if not millions of people, spend long hours checking the news in their social media accounts. So, why don't you use it to boost your business, promote the brand, and get new customers?
Unfortunately, many business owners underestimate the potential powers of social media marketing, and, as a result, leg far behind those, who use the people's addiction to Instagram, Twitter, and Facebook for their profit. What way would you choose? If you are a modern entrepreneur, you must understand that a successful and appropriate Social media strategy will:
enlarge the circle of potential clientage and/or investors;
get the audience acquainted with a brand, services, products;
make a brand recognizable;
increase sales;
establish constant two-sided contact with the customers.
Does it sound tempting? It definitely does. Unfortunately, it is not so easy to achieve without professional IT and marketing skills. If you feel you are able to create catchy and interesting content to attract people rather than simply annoy them by irritating pop-ups and viral advertising, you are welcome to do this. If not, you would need the help of a social media specialist.
Social media marketing company: What can we do for your business?
IntlTech comprises a team of highly professional specialists in the sphere of digital marketing and promotion. We have got considerable experience and enough knowledge of brand promotion online, including social media. Our specialists adhere to the principle of an individual and personalized approach to every customer and thorough analysis of the brand, its service and products, market and niche in general, some regional peculiarities, get information about the target audience, etc to put together the whole picture about the company and its marketing needs. Our aim is not to simply create a merely visible effect that advertising works by increasing the flow of subscribers, like some SMM services may do, but to deeply analyze the potential base of customers and target the posts on people who can really buy your products and increase the income.
Once our professionals have gathered the vital data, they start creating an individual social marketing plan and strategy and choose the most appropriate social media platform. This can be Facebook, Insta, Twitter, Pinterest, some other, or a combination of a few of them. They elaborate on a core concept, which would determine the further actions and must match the main company's priorities on the way to engaging the potential audience. It involves making promos, creating original and engaging content like different posts, articles, video material, and what is the most important, encouraging the people to be active in your account.
IntlTech pays extreme attention to the content and its originality, as it is a core element able to wake real interest to the product in people.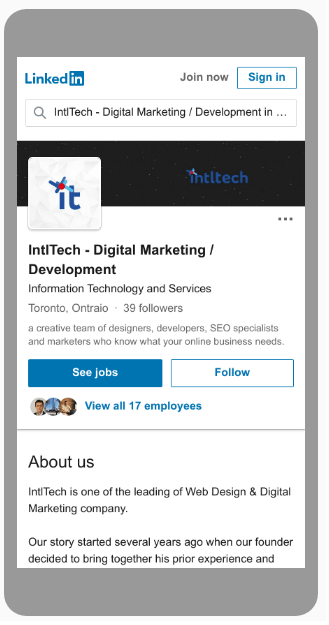 Social media marketing in Toronto: How much does it cost?
As with most of the digital services, the price for SMM promotion varies according to the customers' requirements and the work our professional should perform to achieve the set goal. In other words, the more you expect, the more flexible budget will be demanded. Our social media company offers different packages of services, and we are sure you will find the one perfectly suiting your needs and the sum you are ready to spend. Our representatives are always happy to consult you about the service, its price, and provide you with a deep analysis of what SMM plan would match your business strategy the best.
How to order social media marketing for small business?
If you correctly estimated all the benefits of SMM promotion and want to give your business a profound base for rapid development, you may always order our service by dialing the number below or contacting our managers via email. Once again, if you need any further assistance or have any questions regarding the SMM or our services, our team is always happy to help you in all possible ways.
Entrust your business promotion to professionals!
Frequently Asked
Questions
Want to contact us?
Our contacts
Headquarter:
1325 Eglinton Ave E, Suite 224
Mississauga, ON L4W 4L9,
Canada
46008 Heroes of Euromaidan 9/136
Ternopil, Ukraine
Working hours
Mn - Fr: 9AM - 6PM
request callback
Top