With the modern world getting more and more digital, web development becomes more and more popular. Nowadays, it is involved in a variety of spheres, starting from retail business and ending with healthcare.
Below, you will find a detailed guide through the latest healthcare web development trends, such as remote patient management systems, mental health chatbots, AI, and so on. Check them out to boost your medical business to a completely new level!
What Is Web Development?
Before delving into the discussion of healthcare web development, let us first check out the definition of web development.
In simple terms, web development might be defined as the creation and maintenance of websites. More precisely, it is the work that takes place "behind the scene" in order to make a website look and function properly.
The main elements of web development are:
Front-end development;
Back-end development.
Front-end development is the creation and maintenance of the visual elements of a website a user interacts with. Back-end development, in its turn, is the creation and maintenance of the server elements of a website a user cannot see.
Together, the front-end and back-end development of a website constitutes the full-tech-stack development process.
Uncover the essential disparities and resemblances between Swift and Objective C in iOS development. Dive into our comprehensive exploration of these two prominent programming languages in our IT blog at IntlTech. Gain valuable insights into their syntax, performance, ecosystem, and migration considerations. Stay informed and make informed decisions as we analyze the key differences and similarities between Swift and Objective C, assisting developers in choosing the most suitable language for their iOS projects.
What Is Healthcare Web Development?
After going through the definition of web development, let us discuss what is healthcare web development (or, in other words, medical web development).
Simply speaking, healthcare website development is the creation and maintenance of a website of any healthcare organization (such as a hospital, clinic, nursing home, home health agency, local health department, mental health agency, and other medical organizations).
High-quality healthcare website development might be used by healthcare organizations to achieve the following goals:
To reach their target audience;
To reinforce their brand;
To optimize their internal workflow;
To create better patient outcomes;
To offer more convenient services.
In other words, healthcare web developers have the power to boost healthcare services to an absolutely new level.
What Are the Main Types of Healthcare Web Development?
There exist two main types of healthcare web development, namely healthcare website development and healthcare web app development. Without any further ado, let us take a closer look at both of them right away.
Healthcare Website Development
Healthcare website development (also known as medical website development) is the process of creating and maintaining a healthcare website. Due to the fact that practically no business can exist without a website these days, it is a crucial thing for any healthcare organization.
Healthcare Web App Development
Healthcare web app development (or, in other words, medical web app development) is the process of creating and maintaining a healthcare web app. Since more and more healthcare organizations strive to have their own medical software, it has gained exceptional popularity these days.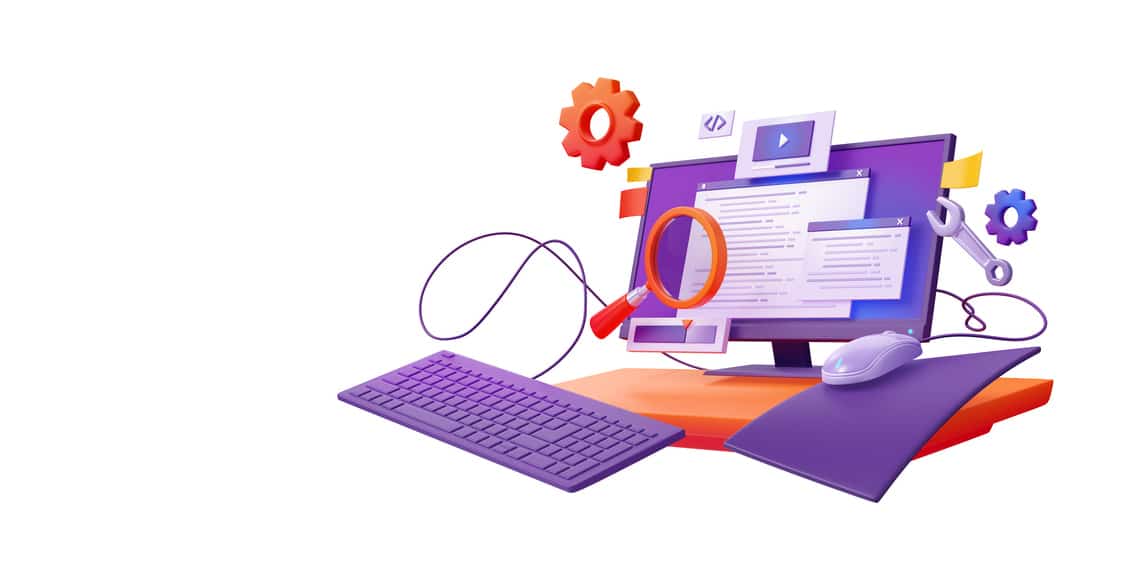 What Are the Elements of Successful Healthcare Web Development?
In order to have a positive impact on businesses that provide healthcare services, both medical websites and medical web apps need to meet certain criteria. Below, you will find a list of the main elements of successful healthcare website development.
Compliance and Data Security
It is of great importance for every healthcare website and application to ensure the protection of the private data of each patient (both in regard to their electronic health records and online payments). Therefore, HIPAA compliance and data security play an important role in this regard and should by no means be ignored by healthcare providers.
Accessibility
Any healthcare website and healthcare web app have to be easily accessible for every patient, including those who have any kind of disability. In other words, a healthcare web development process should make it easy for any patient to use a medical website or application.
Responsiveness
The responsiveness of a medical website or medical web application goes hand in hand with its accessibility. It is of great importance to create a healthcare website design that would respond to the device, screen size, and screen orientation of a patient as quickly as possible.
Data Visualization
Data visualization is also important in healthcare website design. It helps a patient to perceive the healthcare data (or, in other words, medical data) in an easy and comprehensive way. Thus, healthcare providers should do their best to represent the information on their websites in a graphic way.
Patient-Focused Design
Last but not least, the design of a medical website or medical application should not only be convenient and understandable for healthcare providers but also for their patients (no matter whether we are talking about desktop computers or mobile devices).
Looking to launch an e-commerce site? Discover the ultimate showdown between WordPress and Magento for e-commerce websites on the IT Blog by IntlTech. This comprehensive comparison guide explores the strengths and weaknesses of both platforms, helping you make an informed decision. Whether you prioritize flexibility and ease of use with WordPress or require robust features and scalability with Magento, this article has got you covered. Visit the IT Blog now for valuable insights and expert advice on choosing the right platform for your e-commerce venture.
What Are the Healthcare Web Development Trends in 2023?
Now, let us check out the main web development healthcare trends in 2023. Below, you will find a short overview of the ten most popular tendencies in this regard.
#1. Remote Patient Management Systems
Due to the fact that the world is taking an online turn, it is crucial to provide healthcare providers with an opportunity to manage their patients remotely. Thus, remote patient management systems belong to the most popular healthcare web application development trends these days.
#2. Self-Help Patient Portals
Self-help patient portals will definitely do a great job when it comes to the improvement of a patient's experience while navigating through healthcare websites or using healthcare mobile apps. Therefore, they should be taken into account when talking about website development in healthcare in 2023.
#3. Symptom Trackers
The so-called symptom trackers are also in trend these days. Consequently, it might be a good idea to add them to your healthcare websites or mobile apps in 2023. They will definitely improve the experience of every patient who is going to navigate across them.
#4. Mental Health Chatbots
Mental health is just as important as physical health. Thus, the implementation of special mental health chatbots in websites and applications of healthcare organizations becomes a rather common (and very enjoyable) practice these days.
#5. E-Commerce
E-Commerce might be defined as any commercial transaction conducted electronically on the Internet. Therefore, it is of crucial importance to implement e-Commerce into a medical website or application when developing them.
#6. Bright Colors
Despite the recent trend of using a dark website mode, it is preferable to use bright colors in the medical sphere since they are usually associated with good health. Hence, more and more healthcare web app developers "join the bright side" while creating and maintaining medical websites and applications.
#7. Simple Navigation
Since accessibility is an essential element of a successful website (as has already been mentioned above), simple navigation is one more trend of full-tech-stack development in the medical sphere. It ensures a positive experience for every patient who navigates through your website.
#8. 24/7 Operating Hours
More and more websites tend to provide their users with round-the-clock support. And the medical websites are not an exclusion in this regard. Therefore, 24/7 operating hours belong to the trends worth paying attention to while developing medical websites for laptops or medical applications for mobile devices.
#9. Augmented Reality
Augmented reality is a technology that allows one to overlay visual, auditory, and sensory information onto the real world to enhance the experience of a website user. While gaining enormous popularity these days, it is regarded to be a hot trend in the online representation of the healthcare sphere.
#10. AI
AI (also known as artificial intelligence) is probably one of the most discussed topics in 2023. While being innovative and highly technological, it is employed in a variety of tasks on the Internet. Consequently, the usage of AI is exceptionally popular when it comes to the website development of medical websites and apps.
Final Words
Hopefully, the above-mentioned guide has helped you to raise awareness of the current state of website development in the healthcare sphere. So, how about implementing your gained knowledge into practice and boosting your business to a completely new level?