When thinking about online business promotion and better Google ranking, website owners are ready for everything. They invest in SEO, write texts, design and redesign, buy links, etc. just to catch extra organic traffic. All this is great, but except for the quality content, there is one more point essential for Google, and it is a users' behavior and experience. It is one thing to fill in web pages with content, and it is quite different to make the visitors engage and interact. What else, if not pictures, photos, and videos, are able to catch and hold the attention, provoking further interest? Let us speak on why and how quality images matter to your website and online business development.
Using Images to
Enhance Your SEO
A picture's worth a thousand words! And it's really true, especially in the era of almost unlimited digital possibilities, high-resolution images, and motion pictures. Exemplifying your content with photos and videos will help to explain better what you are talking about, deliver the message, and even somehow entertain the reader.
However, to contribute to your SEO strategy and rank higher in Google, your visual content should match bots' requirements as they do not see the picture but read the titles, alts, and captions. So, don't forget about this when uploading new photos or videos. You would also need to keep in mind the size, resolution, responsiveness, and scaling for efficient website loading speed on any device.
Factors

to consider before adding an image on the website:

This should be obvious, but we are still talking about it because it is crucial that pictures and videos support and exemplify your texts and not just stand there for nothing.
Alt text descriptions and image title tags
You do that for the Google bots that will crawl the alternative texts, index your page, and define your ranking position. Here, the important thing is to describe the picture in words for the program to read it and no way stuff it with keywords.
Not just the picture itself should be relevant to the content on the website, but also its name should be appropriate to the things displayed in the picture. Thus, many cameras and smartphones name new files by an odd random combination of letters and numbers (e.g., Eagfh456). Before uploading a new picture or video, make sure you choose the appropriate file name. So, if you add a picture of a blouse with some geometric print, you write in the title 'woman blouse with geometric print'.
With quality images, you will manage to attract the users' attention as visual objects usually are much more engaging than texts. It will improve the bounce rate (a parameter that tracks when people visit your web page and leave it without further actions. High bounce rate indicates that your website is not interesting for the Internet users). If there is visual content, people will watch videos, check photos, spending more time on the page, decreasing the bounce rate.
Using Images to
Convert Your Leads
If your aim is to improve and boost the SEO campaign, high-quality and useful images are very helpful. However, it may also help you to increase conversion rates and sales. How? By increasing the time the user spends on the website, there are more chances he/she will consider conducting a purchase. Thus, for example, you have got an online store selling fashion clothes, shoes, and accessories. If you upload interesting and attractive pictures of the products, the users may spend a long time viewing the images they like until the imagery finally convinces them to buy. In other words, you are telling a visual story.
High-quality images

will help convert your online leads by:
Garnering more views;
Increasing user engagement;
Decreasing bounce rate;
Forming a link between customer and company.
Using Image Quality to
Sell Your Product
Visualization always matters. Except for attracting attention and generating interest, high-quality images would also help to tell more about the products and services you provide, revealing all details you could hardly provide with mere texts. If you are making unique goods that you are proud of, show that to the public, stress and emphasize everything special you are doing. Videos and pictures open a vast space for creativity and can expose things from any side. You decide here what you want to single out and how to present it to the viewers.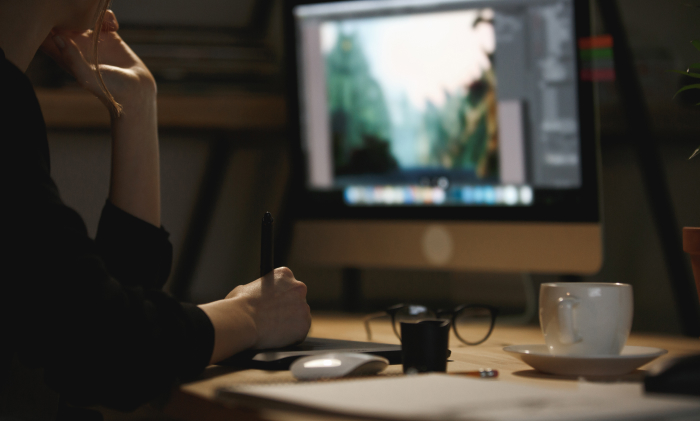 For the best result, you would need beautiful and high-quality images. Nowadays, this sphere is so developed and advanced that you have got thousands of possibilities to fulfill your ideas. Whatever way you decide to go with: hire a professional photographer to shoot a campaign for you or do it yourself using your smartphone, remember the following principles for quality images:
They fit into the web design
The pictures you upload should match and supplement the general concept of your website. It means they may suit by style, colors, etc. Not to mention that resolution, size, and relevance are equally crucial.
Suitable for further brand promotion
If you have an interesting, creative, and beautiful collection of photos of your products, you will be able to use them for other purposes: posts on social media, offline advertising banners, magazines, etc.
Conclusion
As you may see, simple pictures are not that simple. In the digitalized era, people are still thirsty for quality beautiful pictures. Someone is just highly aesthetic. The others trust the brand and are eager to buy more if they can see what they are going to buy. The users' motivation may be different, but the point is that quality images contribute to the growth and development of your business project. They help to strengthen SEO and boost sales. What do you need more? Improve the customers' experience on your website! Add pictures.