In the contemporary digital world, eCommerce is rapidly gaining popularity. Within the last thirty years, online stores have transformed from something extraordinary into an integral part of our day-to-day lives. Together with the rapid development of eCommerce, eCommerce agencies also undergo substantial growth.
The below-mentioned text features detailed information on a full-service eCommerce agency. What is it and what services does it provide? What pros and cons does it have? Let us find answers to all these questions together right away!
What Is an eCommerce Agency?
An eCommerce agency is a company that offers a range of services that help to establish and improve the online presence of a business. In most cases, its main goal is to help a business maximize its online sales and effectively reach its target audience.
Therefore, eCommerce agencies are the essential elements of an eCommerce business sphere. They effectively transfer businesses from offline to online sphere. As well, eCommerce agencies help brands to increase their online visibility in a variety of methods.
Shopify Plus vs. Shopify: Choosing the Best Fit for Your Business – INTLTech IT Blog. Confused between Shopify and Shopify Plus? Gain clarity with our in-depth comparison. INTLTech's blog offers valuable insights into the features, advantages, and considerations of each platform. Make an informed decision to elevate your online business.
What Services Does an eCommerce Agency Provide?
eCommerce agencies provide their clients with a wide range of services, starting from email marketing services and ending with PPC management services. Depending on the spectrum of services an eCommerce agency offers, it might belong to one of the following types:
A limited eCommerce agency;
A full-service eCommerce agency.
A limited eCommerce agency usually has a narrow specialization and offers a single service (for instance, it might be a content marketing agency which focuses on creating content). While a full-service eCommerce agency has a broad specialization and offers a full spectrum of services.
Below, you will find the list of the main services that are usually offered by full-service eCommerce agencies, starting from content marketing and ending with advertising. So, let us delve into the world of eCommerce businesses without any further delay.
Digital Marketing
Digital marketing services are probably the most important services offered by eCommerce companies. They mainly include the development of digital channels of communication and strategies to promote products, services, or brands online.
The main goal of a digital marketing campaign is to strengthen the online presence of a business. While the achievement of this goal usually requires a complex set of actions, starting from the search engine optimization of a website and ending with email marketing
Design
Another vital service offered by an eCommerce marketing agency of the full spectrum is the web design of an eCommerce website. In some cases, a business would require an absolutely new design concept developed from A to Z. While in other cases, just a fresh view of the existing design will be enough.
It is also essential to mention that the main goal of a successful web design is not only to increase brand awareness but also to reflect its nature. As research in eCommerce marketing shows, a simplistic, intuitive, and attractive design is the key to the success of almost any business.
Development
Full-stack development is also a crucial service offered by a full-service agency that works with eCommerce. It usually includes front-end development and back-end development. In other words, full-stack development of an eCommerce website assumes the creation of its external and internal elements.
Depending on the individual needs of a particular business, an eCommerce agency might either develop a completely new online store from scratch or modify its external or internal elements to make an eCommerce site look or operate better by means of employing technical expertise.
Content Creation
"Content is the king," – this is the so-called golden rule, which is well-known for any eCommerce marketing agency. Therefore, a good eCommerce agency would definitely offer content creation as one of the main services for an eCommerce site.
More precisely, an eCommerce marketing agency might create blog articles, guest posts, advertising texts, slogans, mottoes, and other content marketing pieces for an online store and, therefore, attract new potential customers to it.
Advertising
Last but not least, every "right" eCommerce agency that offers full-service eCommerce will definitely include advertising in its eCommerce strategy. It usually includes social media advertising, pay-per-click advertising, and search engine advertising (for instance, Google ads).
As a part of its eCommerce marketing strategy for a certain online store, an eCommerce agency might not only come up with original selling ads but also calculate the estimated advertising budget. This way, it will help a business to gain maximal profit out of its advertising strategy.
ON A SIDE NOTE:
Apart from the above-mentioned comprehensive services, a full-service eCommerce agency might also offer email marketing, performance marketing, and social media marketing services. In other words, it might create a complete eCommerce strategy for your eCommerce business.
What Are the Pros & Cons of a Full-Service eCommerce Agency?
Just like any other company that offers online promotion for a business, a full-service eCommerce agency has its own benefits and drawbacks. Below, you will be able to check out the list of its most important pros & cons. Make sure to check it out before deciding on an eCommerce agency for your eCommerce site.
Pros
The main pros of a full-service eCommerce agency are:
It offers a complete package of services for your online store, starting from web development and ending with email marketing. Therefore, you will be sure that all the elements of your eCommerce strategy perfectly correlate with each other. Otherwise, you are likely to experience a kind of dissonance if you rely on one eCommerce SEO agency to make SEO for you and another eCommerce marketing agency to take care of your marketing;
It is result-oriented. A vast majority of eCommerce agencies are interested in long-term relationships. Thus, they prioritize positive results over all other things. In other words, their main goal is to boost an online store to a completely new level;
It is cost-efficient. Under normal circumstances, it might be more reasonable in terms of price to order all online services from one eCommerce agency than order different services from different companies.
ON A SIDE NOTE:
The above-mentioned list of pros of a full-service eCommerce agency applies only to reliable companies. Thus, it is of vital importance to find a company with a high credit of trust in order to take advantage of all the benefits it offers.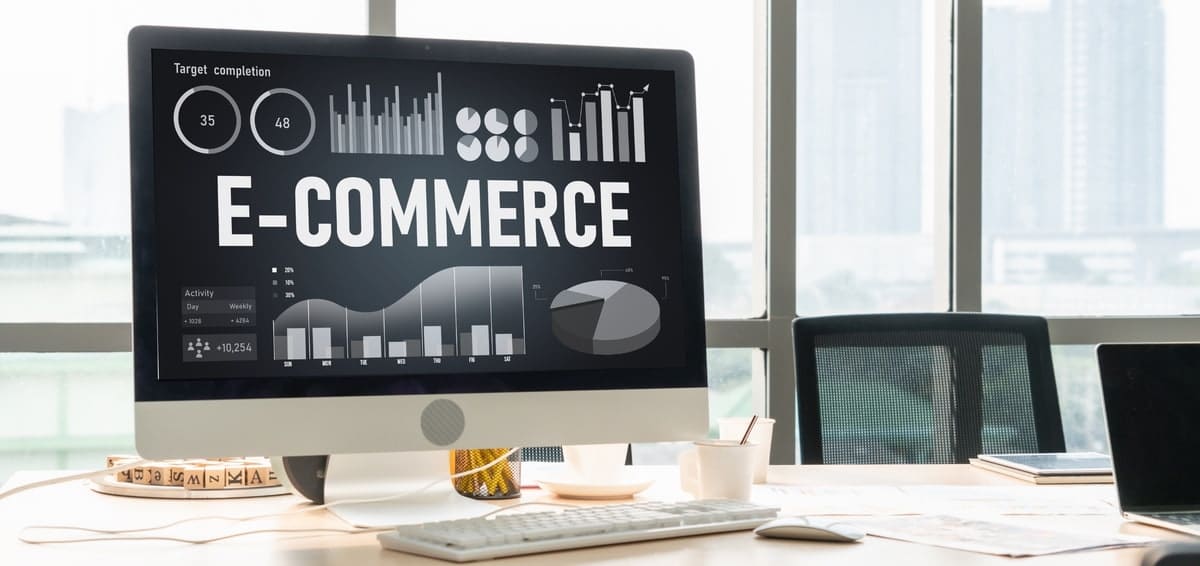 Cons
At the same time, a full-service eCommerce agency has several cons:
Relying on a single eCommerce agency to lead your online store might create a certain level of dependency. Just in case you are not satisfied with any of the services it provides, it might be challenging to switch to a new eCommerce agency;
In some cases, full-service eCommerce agencies have a standard algorithm of action. It might create a lack of flexibility and customization for a particular business that is offering a package of services online;
Due to the wide spectrum of services offered by a full-service eCommerce agency, there is always a risk of upselling, which might eventually lead to unnecessary expenses.
ON A SIDE NOTE:
In order to avoid the above-mentioned cons of a full-service eCommerce agency, it is of vital importance to rely on a trustworthy company in this regard. This way, you will be able to minimize any kind of risks and maximize your profit.
Delve into the dynamic world of iOS app development with IntlTech's comprehensive IT Blog, comparing the two prominent programming languages – Swift and Objective-C. Unravel the key differences and striking similarities between these languages to make informed decisions for your app development projects.
Final Words
All in all, a full-service eCommerce agency might boost your business to a completely new level. So, how about relying on it and seeing the growth of your online store? Remember, a strong online presence is crucial for any brand in the twenty-first century.