Every person in any business sphere is aware that a business simply doesn't exist without an online presence. Of course, potential clients may walk by your store or office. Still, if they notice an interesting and useful post on Instagram, they will more likely get interested in what your company is doing.
However, many business owners have trouble building a positive reputation and increasing engagement on social media even though they have years of experience and high-quality products in their hands. So is there a way to deal with this problem effectively and improve the engagement of the brand? The answer is yes, it is possible and even not as complicated as you may think.
In today's article, we are going to discuss the most popular and effective ways that will have a positive effect on the brand's reputation, success, and engagement on social networks. And if you are not sure how to do it on your own – no worries, the team of experts from IntlTech is always ready to help. Read and learn, hope you'll enjoy it!
What is the social media engagement of the brand?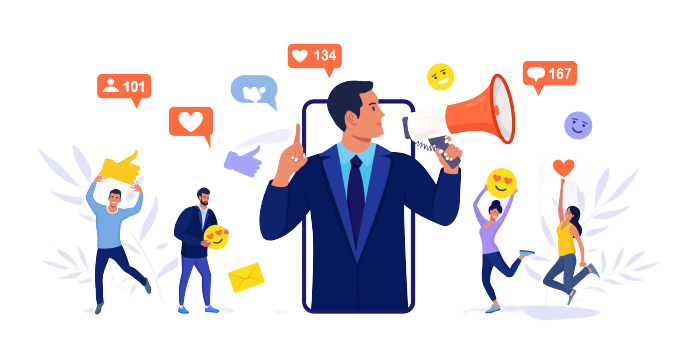 In simple words, social media engagement is the measurement of users' activity on the brand's social media page – likes, comments, shares, etc. You may have noticed that there's no such factor as the number of followers. All because an engaged audience is appreciated more than just numbers of followers.
Activity on social networks helps build a positive experience with a brand for every person (it doesn't matter if they are new or already interested for a long time). The most important metrics include the following points:
Shares;
Likes;
Comments;
The audience growth;
Mentions;
Using brand hashtags, etc.
After everything mentioned above, we can come to a conclusion that social media platforms engagement is growing every time somebody interacts with the content on your account (or the account itself). In order to know the level of success, it is better to track the metrics and work on the strategy relatable precisely for your company.
Why is engagement on social media important?
There are a few reasons why is engagement on social platforms is crucial for the company's success. First of all, it makes the relationships with clients much stronger. Every time they interact with your brand, you should react, reply, and communicate; in this way, there're more chances to bond with them and create a good impression about the company.
Next, it is also helpful for improving customers' loyalty. By helping people, you make trustworthiness much higher. That's why they will remember you first before all the competitors on the market. Sounds pretty great, isn't it?
And the most crucial benefit is, of course, an increase in sales thanks to the engagement. The more people are interested in the brand, the more chance that they are going to become your customers in the future. Just remember – be polite, assist people as much as you can, and be patient. The sales will come naturally.
How can I increase social media engagement?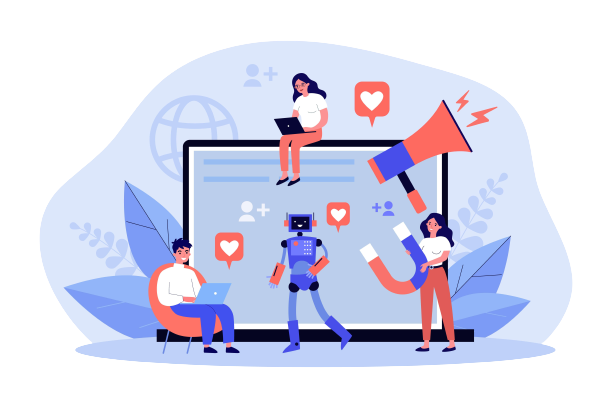 Honestly speaking, social media engagement can be improved in a few not complicated steps that are pretty understandable and can be performed by anyone. We will discuss each one in more detail, so you can read and decide which will be the best precisely for your case.
1. Analyze and develop a social media engagement strategy
In order to know what would be the best for your brand, you need to understand the way it performs online. Have a closer look at the audience, observe their behavior online, and only after that define possible methods of boosting your social networks.
2. Work on the content quality
The content is a key to the success of every social network. It should be valuable, engaging, and easy to understand. Depending on the type of audience, you may need different kinds of posts – some may advertise products/services of the company, some tell more about the sphere you are working at overall, and others may contain simple, aesthetically pleasing photos. Don't be afraid to get creative – ask questions, make polls, test people's knowledge on various topics, create a customized filter for Stories – the number of possibilities is endless.
3. Stay trendy
Follow all recent changes in your field (or global world changes). In case you don't have any ideas for new social media posts, just talk to people about the recent news and trends, connect them with your company, try to make users interested to start a discussion.
4. Don't forget about the human factor
When you create content for social media, remember one thing – people will more likely choose your brand if they understand that there is a person who stands behind all the work. Show them behind the scene of the working process, introduce team members, respond like a real person – users will appreciate it a lot.
5. Create a schedule
It is important to always keep in touch with followers, not disappear for long periods, and post content during the most comfortable hours. Mainly, people check their social media in the morning before work or in the evening when they come back home. A schedule will be a perfect option to reach as many users as it is possible and increase engagement.
6. Social media tools are always a good option
There are many variants that may be helpful in improving the quality of your social media, as well as every blog post. Use photo and video editors, create unique gifs, think about trying analytic tools. Thanks to new technologies and the speed of social media marketing development, the number of options is endless, so do not be afraid of trying new things and experiment. You'll never know what will be the best for you without it!
Final word
Social media engagement is one of the most important metrics when it comes to social networks. Think about it – everything you do is created for customers. Whether it is interactive stories or the final product your company sells – customer experience is always a number-one priority.
Analyze your audience and their reactions – what would work the best with them? Only after answering this question it is possible to create a successful strategy and reach new heights with your brand. Don't be scared of experimenting – this process is fun, and you will surely be happy with the results you'll achieve. Good luck!