Have you been aware of the fact that an average person needs about 10 seconds to form an opinion on a company? Therefore, it is crucial to create a powerful brand that will create a positive first impression on your business and, therefore, help it grow.
But what exactly do we mean under the concept of branding? What does it consist of? And, finally, why is it so important for every business? Let's find the answers to these questions by going through the information below.
A tip for you: If you are not sure how to build a strong brand that will work for your needs, let it be done for you by digital marketing experts. This way, you will be able to professionally boost your brand awareness and, as a result, revenue.
What Is Branding?
Before delving into the importance of branding in business, it is essential to define what it is. In simple terms, branding is a marketing concept that involves the creation of a name, logo, design, concept, and other features that will make one product or service stand out among other similar ones.
While a brand, in its turn, might be defined as an image that pops up in people's heads whenever you hear a name of a certain product or service. For example, what image will you think of whenever you hear the term iPhone? We bet it will be the well-known bitten apple logo.
The main role of a brand is to help people easily recognize a particular company by means of simply looking at either its product or its service. And, if a company manages to build a strong brand identity, it will be able to receive numerous benefits that we will discuss below.
What Elements Should a Brand Strategy Include?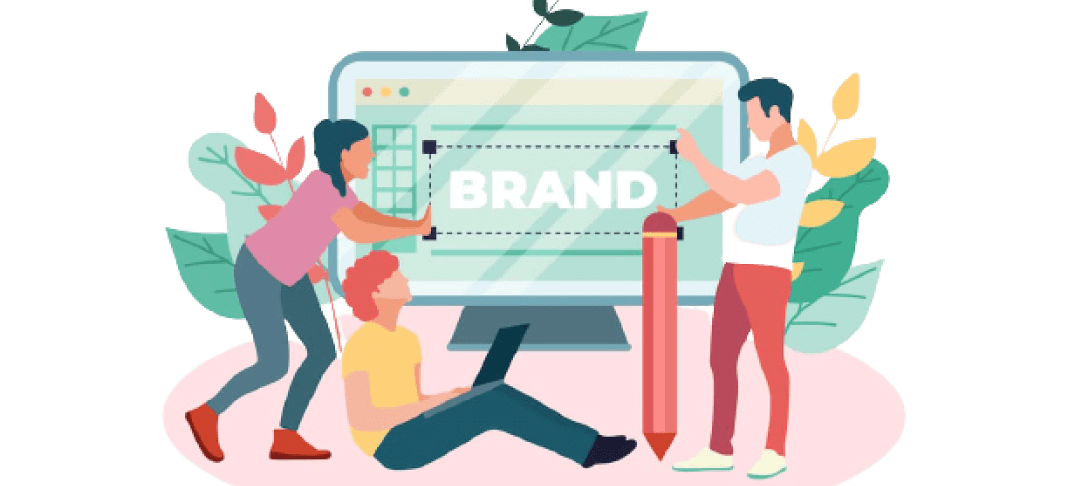 One more significant thing one should know about branding is that it is not created on the spot. Vice versa, a top-quality company branding is usually built with the help of thoroughly thought-out marketing strategies.
Therefore, let us check out the key elements a brand strategy consists of. In most cases, the main "ingredients" of a top-quality brand are:
Brand core, which, in its turn, includes the brand purpose, vision, and values;
Brand positioning that consists of its target audience, market analysis, and awareness goals;
Brand persona, together with its personality, voice, and tagline.
Please note that despite the fact that every above-mentioned constituent of a brand is important, it is not a must for a brand to involve every single thing while developing its initial strategy.
Why Is Having a Strong Brand Important for Business?
There exist a whole bunch of reasons why having a strong brand is of vital importance for a company. So, let's go through the main ones.
#1: A strong brand directly represents your company to your potential and actual customers. In other words, the people who are somehow related to your business will make their opinions on it under the influence of your brand. Therefore, good branding will not only increase brand loyalty but provide your company with a good reputation.
#2: A distinct branding guides your company's advertising. Indeed, a clearly defined branding enhances your advertising and has the power to make it more efficient. As soon as you define what emotions, colors, or visual elements of your brand design would you like your company to be associated with, you can involve them in your advertising and, therefore, channel your marketing endeavors in the right direction.
#3: A powerful branding creates a loyal customer base. Frankly speaking, a clear visual identity, memorable logo, strong positioning, and other elements of a powerful brand do not only attract new customers but also make them more loyal and trustworthy towards your company.
#4: A well-known branding builds up trust. We bet you do not have any trust uncertainties when it comes to Apple, Nike, Pepsi, and other strong-established brands. The main reason for it is that a well-known brand is capable to make your potential consumers believe in the reliability of your product or service right away.
#5: A solid branding attracts masterminds. No one would deny that most people prefer to work in well-known companies. Therefore, a solid brand will assist you in making talented and knowledgeable people want to work with you and, thus, push your company forward.
#6: An appealing branding establishes an emotional connection with your customers. One of the well-known marketing truths is that we make our purchases on emotion. While an appealing branding, in its turn, might serve as a great "helper" to establish a strong emotional bond between your company and your potential or actual customers.
#7: A clear branding allows you to stay focused. Instead of wandering around from one idea to another, you will be able to concentrate on ways to fulfill business goals if you have clearly defined branding.
#8: An influential branding creates referrals. In other words, a strong brand positioning might serve as an efficient "word of mouth" and provide you with free advertising. Here is how it works: If people become fond of your brand, they will be eager to tell their family, friends, or colleagues about your company.
#9: A memorable branding boosts your company's recognition. A well-developed design, logo, slogan, or any other branding element might make you easily recognizable among your competitors and, as a result, make people highlight your company among other similar ones.
#10: A great branding drives great results. Believe us or not, if you put enough effort into the branding process, you will be able to see substantial progress in the development of your company.
Therefore, having a strong brand is nothing else but vital when talking about achieving your business goals.
What Benefits Will a Powerful Brand Provide?
A thoroughly thought-out branding might provide you with a number of advantages. After building up a solid brand, you will be able to expect:
New customers;
Increased brand recognition and loyalty;
More sales and, as a result, greater revenue.
In other words, a powerful brand has the strength to boost your business to a completely new level.
A Bottom Line
All in all, it is difficult to underestimate the importance of branding when it comes to the development of your company. Thus, how about putting effort into the creation of your brand and seeing how your business grows?